On site with Moroccan organic producers PBS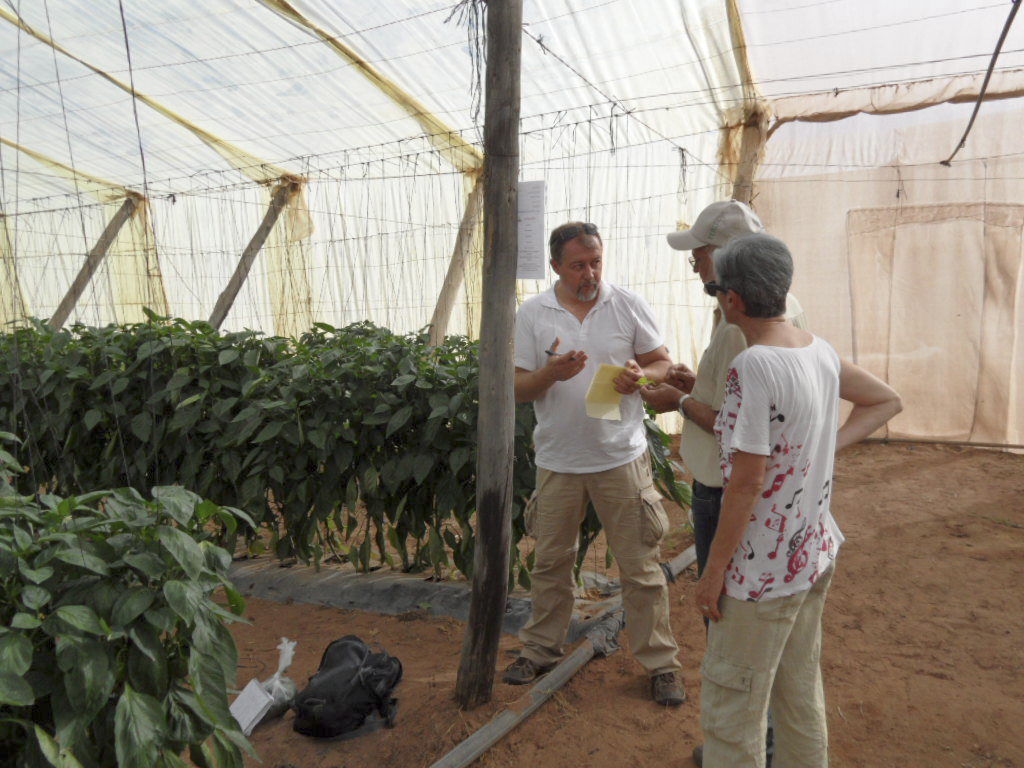 We regularly go on test trips to visit the people who cultivate our fruits and vegetables.
We also often travel to Morocco to visit the organic producer Primeurs bio du Souss (PBS), with whom BioTropic has been working closely for several years. In attendance were Odile Bouron, operations manager of the French BioTropic office, Mauro Finotti, our agricultural engineer from Italy and two other colleagues.
Lahsen El Hjouji is the director of PBS and has been leading the company for 20 years. The organic pioneer is the country's largest producer of organic vegetables by far. The three PBS farms cover a total of 130 hectares and are located about 40 kilometres from the port of Agadir. PBS primarily grows vegetables which are exported to Europe: Dwarf beans, chillies, hokkaido pumpkins, country cucumbers, red and yellow peppers and courgettes. Organic bananas are also available. These are only intended for the domestic market.

The four BioTropic employees were there shortly before the harvest period. They discussed organisational issues for the season with El Hjouji. How many should be delivered? When? But also: How do the fruits look? The soil? Agricultural engineer Finotti is the specialist who focuses on this and carried out an agricultural audit. For this, he picked leaves, took samples of the soil and fruits, in order to analyse them in the laboratory.

PBS organic vegetables thrive in protected greenhouses, a smaller portion also grow on open land. "When we were there, these open areas were prepared for the next sowing - workers spread compost over the soil to mix in. Organic courgettes should be planted. If all goes well, the fruits will be ready for harvesting in the coming year", notes Odile Bouron,

The water required for cultivation used by PBS predominantly comes from springs and the nearby Oued Souss river. This makes the Souss plains relatively fertile in comparison to other areas of land. PBS employs modern water management as standard: water is automatically fed to the plants in small amounts via drip irrigation. In this way, the plants only receive the water that they need to grow.

During the high season, between October and May, around 450 workers work on the PBS farms and in the packing station. Most of them come from the surrounding region. Lots of people also means lots of responsibility. The farms include sleeping and recreation areas which provide modern sanitary facilities. PBS has been BSCI certified since 2013. This code of conduct aims to standardise working and social standards in international trade and improve them in at-risk countries. The strict specifications of the BSCI are based on international conventions such as the Universal Declaration of Human Rights and the International Labour Organisation (ILO). Child labour is therefore banned, there is occupational safety and employees receive appropriate remuneration for their work. No matters of course in the North African country.

One feature is PBS' own seedling cultivation. The majority of the vegetable plants are picked at PBS and not bought in. As the saying goes: "Then you know what you've got." Country cucumbers were grafted during the BioTropic visit. This means that a standard variety of cucumbers was refined with an old variety in order to create a more robust cucumber plant.

Text: Visnja Malesic
Images: BioTropic GmbH
As at: November 2016
Tags: Dwarf beans (GB), Chillies (GB), Cucumbers (GB), Morocco (GB), Mauro Finotti (GB), Odile Bouron (GB), Peppers (GB), PBS (GB), Courgettes (GB)