Start of the ginger & turmeric season in Costa Rica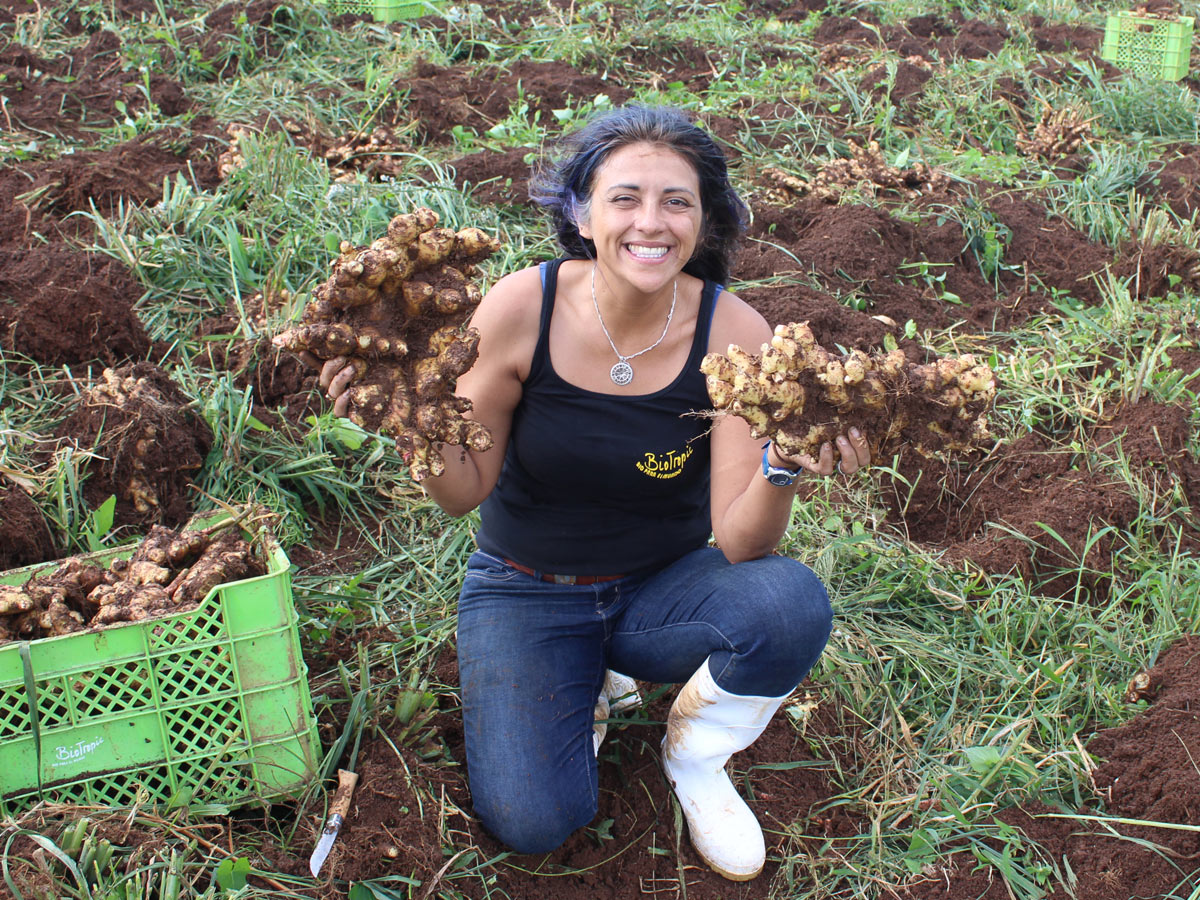 The first container of the year is now on its way from Costa Rica to Europa – filled with fresh organic ginger and turmeric. The beginning of the season coincides with the start of the new year 2021 and promises to be very exciting. Why? Because, for the first time, the harvest is being gathered under new conditions. The completion of the develoPPP.de project in December 2020, implemented together with DEG (Deutsche Investitions- und Entwicklungsgesellschaft), created a comprehensive basis for optimised cultivation and export. And this was despite the restrictions as a result of the coronavirus crisis, which has also hit Costa Rica extremely hard.
During this two-year project, a range of measures have been implemented: for example, a second packing hall has been built at BioTropic's Costa Rican site. Modern sorting, washing and drying equipment has been purchased and installed. Both packing halls are now connected, thereby making the processing area even bigger. This creates additional capacity and also enables social distancing during the coronavirus pandemic. New refrigeration chambers are currently being built that will allow fresh produce to be stored and pre-chilled.
Another aspect of the develoPPP.de project was the search for additional producers in the country. Our new applicants are benefitting from extensive training (organic farming, GlobalGAP) and subsequent certification. Of course, BioTropic is helping them with the necessary resources such as fertilisers, seeds and ecological pesticides. All this is strengthening organic farming in the country, while improving the employment situation in agricultural regions.
Achieving targets through motivation
Lisbeth Mora, our Costa Rican Operations Manager, proudly says: "We're doing our best every day to provide our customers in Europe with a great product. Because we attend to the fruit from the outset – from farm, through processing, to wholesale. This is transparent and ultimately highly consistent." Her passion for her work is written all over her face. With her enthusiasm and a great deal of curiosity about people and things, she helped set up the BioTropic branch at the end of 2016.
And then there's "La Rosita". You could call this Lisbeth's "baby" - BioTropic's very own finca in the north of the country that the Operations Manager has helped to establish with a great deal of personal commitment. This approximately 60-hectare farm is located on an agriculturally attractive hillside in verdant surroundings and has its own natural spring. Organic ginger and turmeric have been grown here since 2019. The soil is extremely fertile due to the nearby volcanos, because volcanic ash is rich in important nutrients. The finca is set amidst breath-taking greenery that provides a natural habitat for a variety of animals and plants. We're committed to maintaining this.
Other measures
As part of the Federal Ministry for Economic Cooperation and Development's "coronavirus emergency programme" introduced last spring, the offices at the BioTropic site have been modernised in accordance with a coronavirus hygiene concept. A large kitchen has also been built, as well as a staff dining and changing area. Extensive health training has been carried out. This emergency programme has also been implemented together with DEG.
New team member
David Buitenhuis has just joined the local community. He travelled to Costa Rica from Germany at the beginning of the year and will stay for six months. He was previously part of BioTropic's Duisburg fruit and vegetable team. In Costa Rica, David will closely examine the local processes and propose solutions for further improvements. "My aim is to make local value creation more accurate and economical. Until now, for example, a lot of things have been done by hand, which is sometimes tedious for staff and takes a lot of time. I will also consider how to organise crop rotations in future and which plants are suitable for this."
 
"I'm particularly impressed by the sheer scale of nature here. Even though we operate and work in a cultural landscape, we're extremely close to unspoilt nature."
David can even ride his bike, which he brought with him from Germany, to some of the fields and the packing station. "This keeps me fit and it feels good not to have to drive everywhere," says David.
At the moment, David and Lisbeth are regularly out in the fields and at the packing station helping with the current season. A lot of rain has fallen in the last few days. Sometimes, it's not been easy for lorries to drive to the edge of the fields to collect the boxes of produce. January is not only the start of the season, but also marks the beginning of summer in the country. Hot, dry weather is forecast for the next few weeks. Ideal conditions for a successful harvest until the season ends in June.
At BioTropic, we're proud to offer the people of Costa Rica stable sales markets and secure jobs. This prevents the general rural exodus from the region and the impoverishment of the rural population. We follow the principle: "think global, act local."
Text: Visnja Malesic
Images: BioTropic GmbH 
Last updated: January 2021