Burkina Faso & Senegal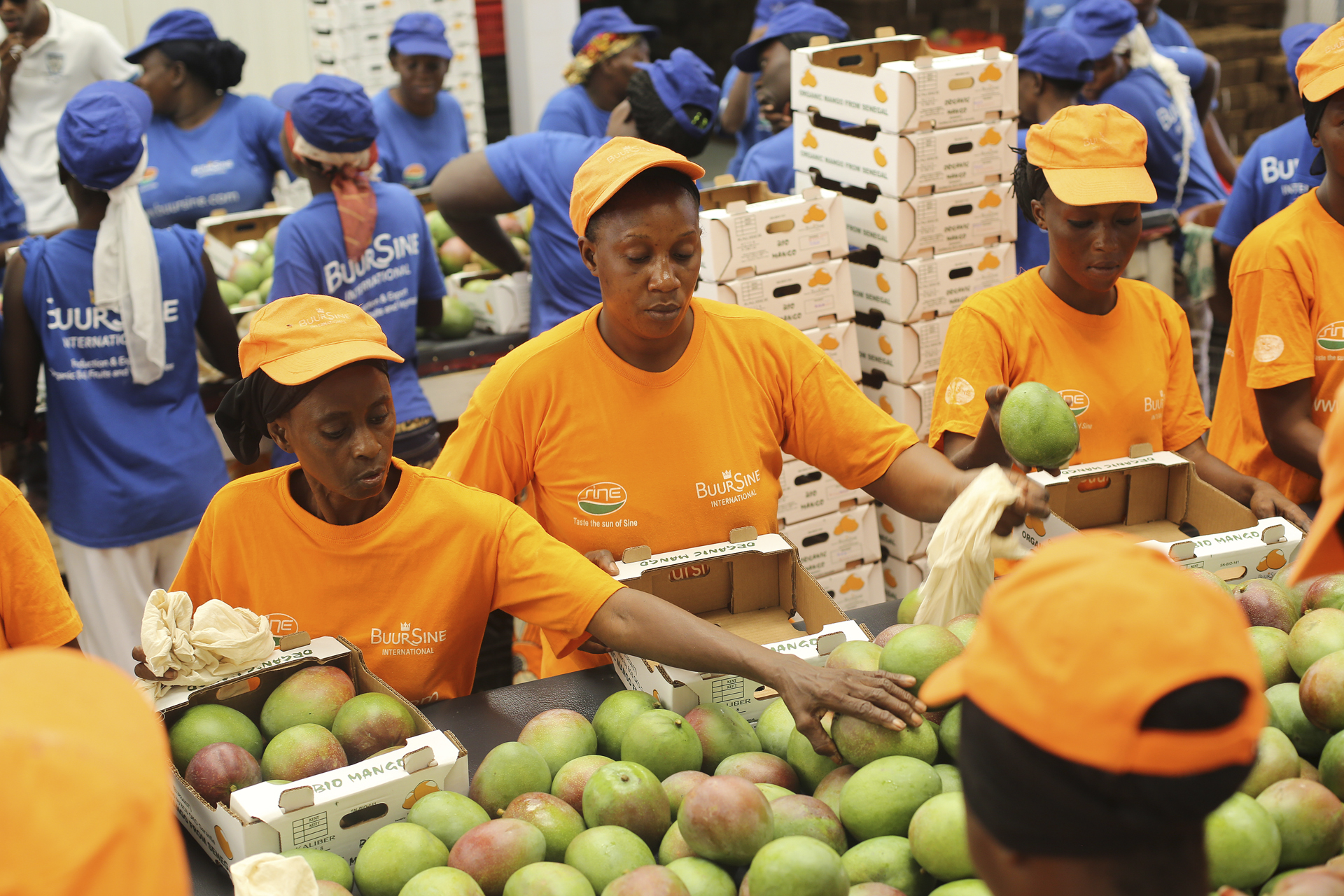 Depending upon which harvest they come from, our African mangoes are grown either in Burkina Faso, the Ivory Coast or Senegal. Our purchases represent a great opportunity for the small farmers of these countries to provide them with financial security, added to which our purchases support smallholders as well as local eco-farming. In addition to this, we support the co-operatives with our sales potential and many years' experience of eco farming. This support includes on-site visits made by our African project leader Kuemkwong Siemefo.
Mangoes from Burkina Faso
ORIGIN Burkina Faso | START 2018 | PROJECT PARTNER Diima | MEMBERS 18 | CULTIVATION AREA 56 ha | CERTIFICATION EU organic, GLOBALG.A.P. + GRASP, Naturland | PRODUCTS Mangoes (fresh and dried)

In the west of the country, not far from the second-largest city of Bobo-Dioulasso, you can see the mango trees belonging to the small farmers of Diima. The Amelie, Brooks and Kent varieties are grown here. The farmers have their own packing station, in which only organically grown fruit is processed. A drying station for making dried mango is scheduled for the first half of 2018. Ido Nebnoma is the CEO.
Mangoes from Senegal
ORIGIN Senegal | START 2009 | PROJECT PARTNER Buur Sine, cooperative with business partner Amacodou Diouf | MEMBERS 75 | CULTIVATION AREA 125 ha | CERTIFICATION Bio Suisse, EU organic, GLOBALG.A.P., Naturland | PRODUCTS Mangoes, local trade with cashews and lime

These mangoes come from the Niayes region along the northern coast of Senegal – the fruits are the main source of income for smallholders there. Their plots under cultivation are manageable; on average they range between 2 and 5 hectares in size. The fruit on the trees grows naturally, adapting to the climate and soil there.  

At the instigation of BioTropic we set up the 'Buur Sine' co-operative together with our partner Amacodou Diouf. Diouf manages the head office of the co-operative and not only manages the export of mangoes, but also supports social projects in schools, hospitals and women's groups.

The men and women are responsible for farming their smallholdings to ecological guidelines. 'Buur Sine' buys the mangoes from the co-operative members at fair trade terms, packs and finally sells them on to the importer BioTropic. 'Buur Sine' is also responsible for the harvesting and quality control of the fruit crop. In addition to this, it provides technical support.

The cooperative had to, however, let expire the Fairtrade certification that was started a few years ago. The sales market for it was simply too small, the costs and paper usage for the certification relatively high. The fixed quantities and minimum prices of BioTropic, which are in fact higher than the Fairtrade standard, remain in place.

From 2018, GLOBALG.A.P. certification will be followed by a GRASP audit. This is a voluntary additional module from GLOBALG.A.P., which assesses the social management of agricultural operations and is also concerned with health and safety at work and workers' social concerns.