BioTropic visits growers in South America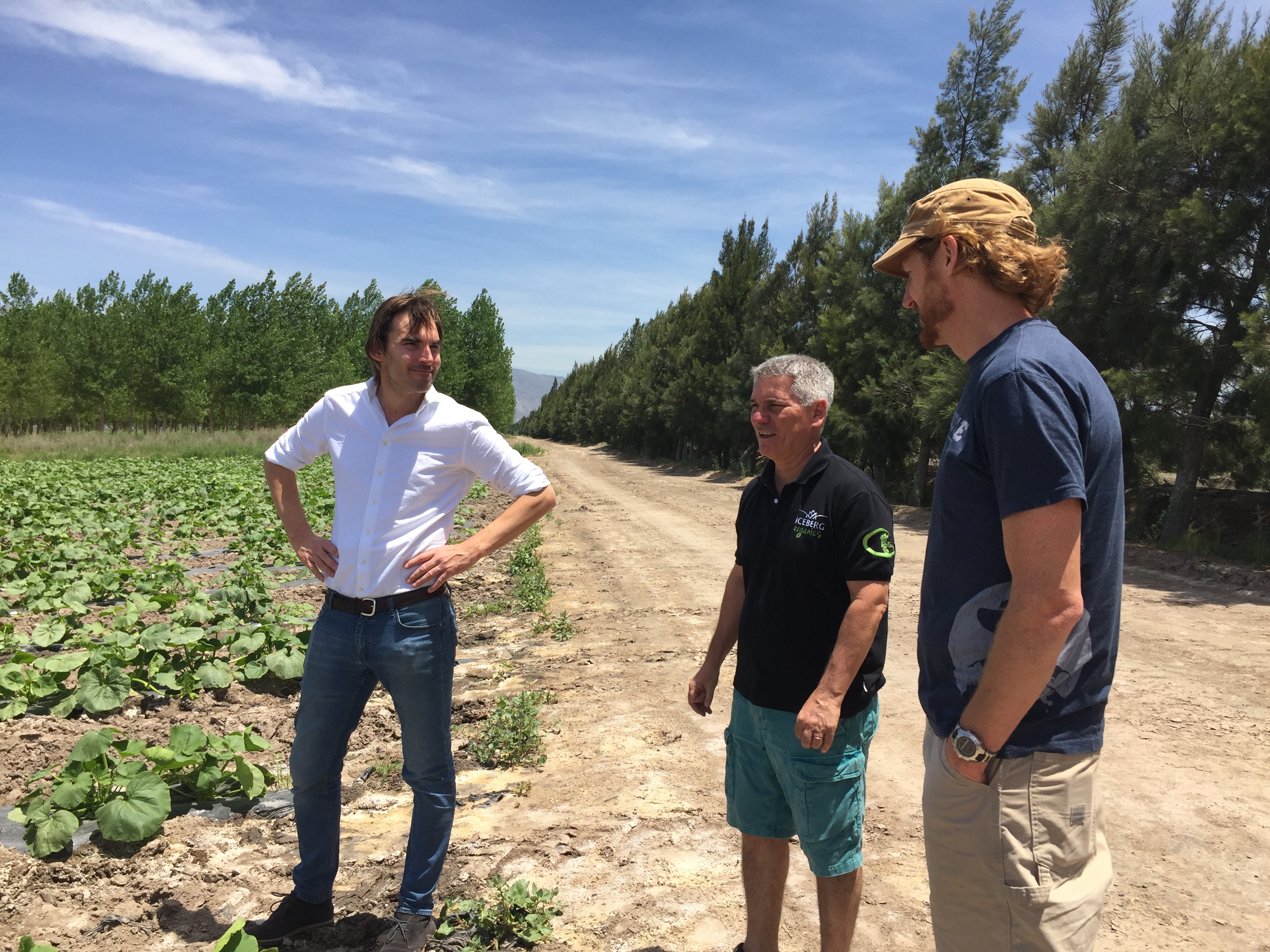 In November we visited Argentina and Chile to talk to our organic trade partners here. We get organic kiwi, garlic, pumpkins, plums, apples as well as pears from them. Ronald Vianen, the manager of our Dutch BioTropic branch as well as his colleague Joep van Koevorden, visited the area. Here they not only discussed the predicted harvest forecasts, planned delivery quantities or prices for the next season but also worked on developing a very good personal business relationship.
The first destination of the journey were the San Roque Farms in Chile. Ignacio Lopez cultivates organic kiwis here. Already his father managed the farm in accordance with organic guidelines in the eighties. The kiwis will be harvested in May and Ignacio will soon be able to make his first forecast on the coming harvest quality.

The next few days were reserved for our garlic and pumpkin suppliers in the neighbouring country Argentina. There is e.g. Diego Iglesias, the manager of Iceberg Agricola. The company, established in 1993, is currently the main exporter of pumpkins from Argentina. We get pumpkins and butternuts from Diego. Besides pumpkins, he also grows organic asparagus which is mainly sold frozen to the USA and Canada. We have been working with Iceberg Agricola and Diego for about five years. We expect the first hokkaido pumpkins from Iceberg in January. Butternut-pumpkins will follow in March.


The trip continued with a visit to Armando Castillo who has a small garlic business. The garlic is of a very good quality but Armando doesn't have the possibility to pack it in accordance with international standards. Ronald and Joep have found a processor who can dry and pack this great organic garlic.

Our last stop was a visit to the apple and pear growers. Ronald and Joep stopped off in the famous Rio Negro Valley. This fertile oasis in the middle of the Patagonian Steppe is world famous for is delicious apples and pears. There are many family businesses here which have been growing apples and pears as well as other agricultural crops for many years. We visited some of the best organic businesses including Ernesto Bartusch and his son Rodolfo at La Deliciosa and Sergio Seco at La Conquista. Both grow apples and pears, Bartusch also grows plums. We have been working together with the Bartusch family for already many years, La Conquista even supplies exclusively to BioTropic in Europe.

Bartusch told us that this year the apple trees started to blossom two weeks later than last year. This natural annual shift in the start of the blossom time, whether later or earlier, also results in a later (or earlier) harvest.

Text: Visnja Malesic
Photos: BioTropic GmbH
Version: December 2015
Tags: Apples (GB), Argentina (GB), Pears (GB), Chile (GB), Iceberg Agricola (GB), Joep van Koevorden (GB), Kiwifruits (GB), Garlic (GB), Pumpkins (GB), La Conquista (GB), La Deliciosa (GB), Plums (GB), Ronald Vianen (GB), San Roque Farms (GB)