Bio Brotbox: Breakfast well with BioTropic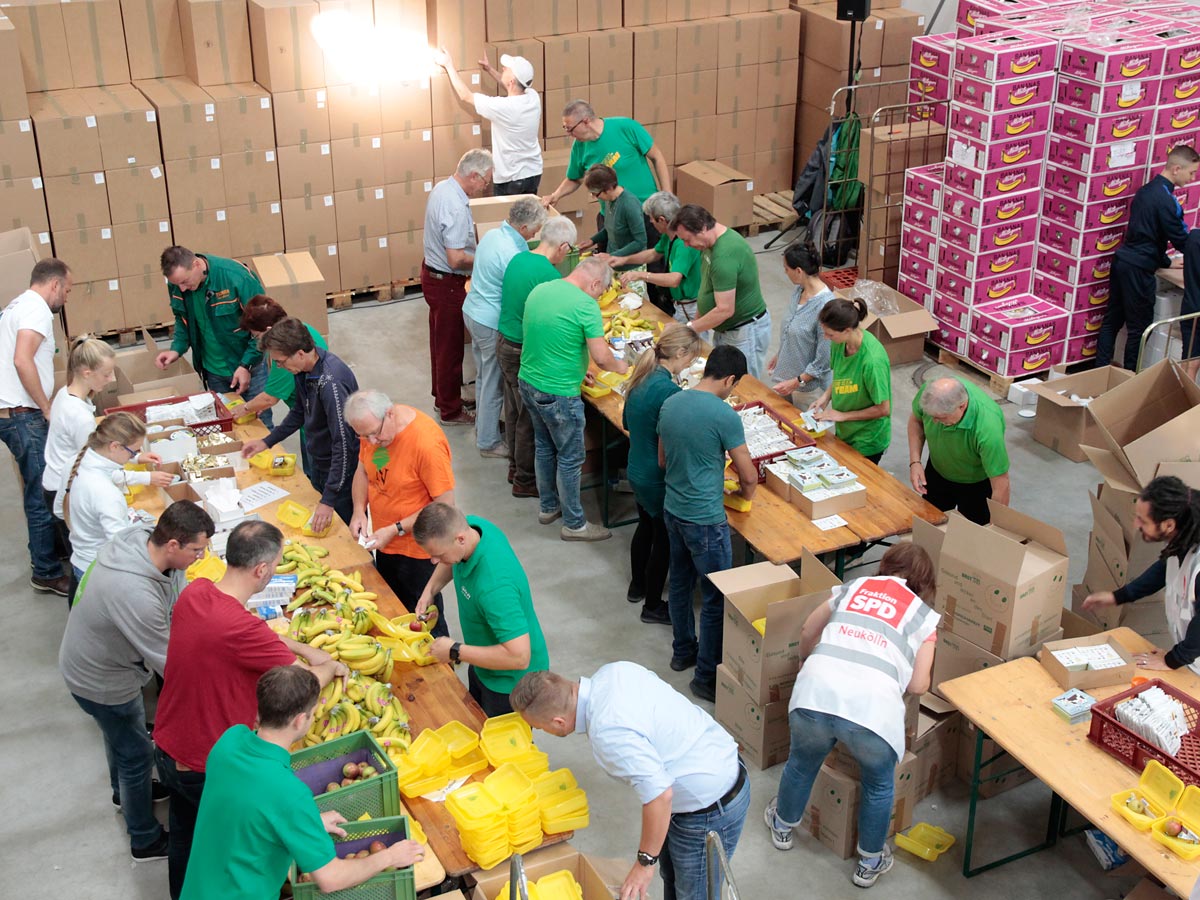 Year one pupils in Berlin and Brandenburg received a free Bio Brotbox this year too – a whopping 59,000 lunch boxes were packed for it. The reusable box is well-stocked with various organic food products for a healthy breakfast. The aim of this campaign is to set an example of the importance of a sensible diet which starts in the morning. For many children and parents, the Bio Brotbox is their first contact with organic food.
All of the lunch boxes were packed at the organic food wholesalers Terra in Berlin. In a place where empties would otherwise be processed, there were rows upon rows of tables. About 400 well-organised people helped do it on a Sunday in the hall which was ready to go. One of them was Visnja Malesic, specialist in the BioTropic marketing team. "The atmosphere was super and unbelievably stirring. I have rarely seen so many smiling people. In these moments, I am reminded again how much good lots of people can achieve together!"
BioTropic is once again involved as one of the main sponsors of the campaign. About 60,000 organic bananas were delivered to Berlin from the Dominican Republic for it. And what sort of goodies were the lunch boxes filled with? Each one has a BioTropic banana from Milagros – other supporters supplied an apple, a slice of wholemeal bread, cheese spread, a wooden utensil for spreading, and a fruit bar. There was also a flyer with a short description of the campaign.
The Bio Brotbox initiative was established in Berlin in 2002, and has been established in many other German cities since then. The campaigns are financed by private sector donations and voluntary support. Numerous people from the organic food industry or other companies and initiatives voluntarily pitch in with the packing.
In Berlin that was, among others, Federal Minister of Family Affairs Dr Franziska Giffey, Renate Künast (former Federal Minister of Consumer Protection, Food and Agriculture), Sarah Wiener (TV chef and author), Dr Dirk Behrendt (Senator for Consumer Protection in the Berlin Senate) and Martin Hikel (District Mayor of Neukölln).
Text and images: BioTropic GmbH | © BioBrotBox/CHLietzmann
Version from: September 2018