BioTropic at Fruit Logistica, 6 - 8 February 2019
February is all about Fruit Logistica. Berlin was once again the hub for around 78,000 of the trade fair visitors from the fruit and vegetable sector. We were there, of course.
Our colourful stand was once again a port of call for many visitors. They were able to learn about the diverse range of fruit and vegetables we have on offer – for example, our dried mango slices and dried pineapple pieces from the Ivory Coast which we showcased on our stand for the first time – and, of course, try them.

As usual, the trade fair offered a good opportunity for the approximately 30 colleagues from BioTropic branches around the world to compare notes, whether that was with each other, with clients, or with producers. "Overall there was an incredible amount going on at the trade fair. Our stand was also well attended," said Sascha Suler, manager at BioTropic headquarters in Duisburg. "We observed that a particularly large number of producers from Central and South America introduced themselves to us – they're looking to make connections in the European market."

We're delighted that ecological farming has grown globally in the last 20 years. Along with our employees on the ground, we're continuously working on making our common goal of "organic for one world" a reality.

According to information from the trade fair operator, "Messe Berlin GmbH", there were more than 3,239 exhibitors from 84 countries on the ground at this year's Fruit Logistica. Around 78,000 visitors travelled from 130 countries for the trade fair.
Text: Visnja Malesic
Images: BioTropic GmbH
Version from February 2019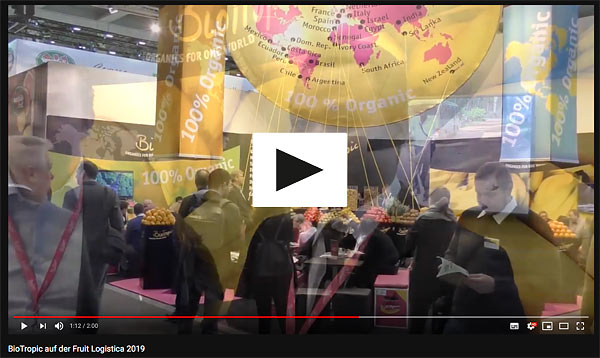 Film & cut: Regina Kerz